Harderwijk (G): St. Catharinakapel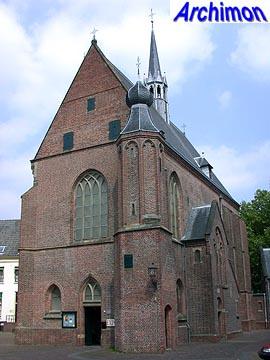 St. Catharine's chapel was built in 1502 as part of a Franciscan convent. It's a one-aisled building in Gothic style. At the outside the windows indicate the interior was divided in two; a gallery formed the upper part which was for the nuns, while other people attended the mass in the lower part. At the front of the church is a polygonal stair-turret. In 1581, during the Reformation, the convent was closed. In 1647 the chapel became part of the accomodation of the newly founded university of Gelderland. In 1787 the university gave the Walloon community permission to use it as a church. However, in 1811 the university was closed and after that the chapel served several profane functions.
In 1910 the catholic parish bought the building to use it as a church. Architect J.Th.J. Cuypers restored it in 1912-1913. In the proces, the outer layer of bricks was replaced by factory-made new ones. Also a Neo-Gothic portal was added to the south side. The chapel served as a church until 1962, when the parish left it for a bigger building. After having been used for storage, in 1975 the chapel was bought by the municipality. After a major restoration until 1981, it was given a cultural destination.