Haalderen (G): O.L. Vrouw van Zeven Smarten (H.W. Valk, 1931-1933)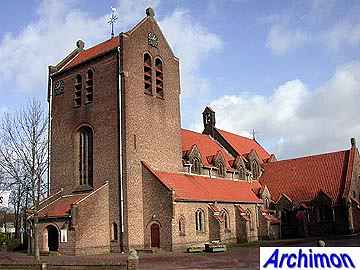 The first church of Haalderen was built in ca. 1400. After the Reformation this church was destroyed and not rebuilt. When freedom of religion returned at the end of the 18th century, Haalderen, which had always remained mostly catholic, became part of the parish of Bemmel. In the early 1930's however the village finally became a parish again. Architect H.W. Valk was chosen to design a new church, with the explicit order that it was to have a saddle-back tower.
Valk designed a three-aisled cruciform basilica in his usual Traditionalist style, with narrow side-aisles and a wide central aisle, long transept-arms and a heightened crossing to illuminate the choir section. Hand-made bricks from the local factory were used, many of these made by the workers of the local brick factory in their free time. Advertisements in regional and national newspapers invited people to donate square meters of the walls at one guilder each. Valk put his colleague J.H. Sluijmer in charge of the construction.
In 1944 the church was badly damaged, when German troops blew up the tower, taking down the nave as well. The church was rebuilt after the war, and sources disagree whether it was one of H.W. Valk's sons, either H. Valk Jr. or G.H.F. Valk, or J.H.Sluijmer who was in charge of the reconstruction. Either way, the church was rebuilt according to the original plans, except for the tower. This part of the church was finally rebuilt in 1958.