Enspijk (G): reformed church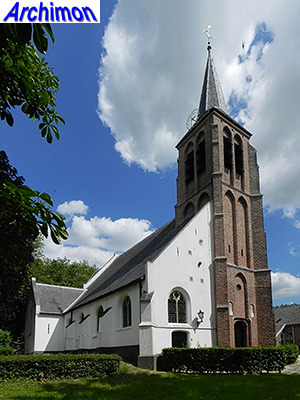 The church of Enspijk is a three-aisled pseudo-basilica in Gothic style, largely built in the 15th century by transforming an older aisleless church. In 1975 foundations from the 13th-century predecessor were found. The old church fit almost exactly inside the current one and had a straight choir which was narrower than the nave and had no tower.

The first part of the church that was replaced was the choir in the first half of the 15th century. The new choir was wider, longer and higher and was in Gothic style. In the second half of that century, the Gothic tower was built, consisting of three segments ornamented with pointed niches and supported by diagonally positioned buttresses, the eastern two of which are inside the nave. The tower originally had a pyramid roof which was later replaced by the current spire. Around the year 1500, the nave was extended with a chapel at the north side opposite the southern chapel. Shortly thereafter the pseudo-basilican nave was built. The walls of the old nave were almost completely demolished and replaced by two rows of pillars and arches between the central nave and the side-aisles. Because the old foundations were unreliable, each pillar was given a new separate foundation made out of the rubble of the old church. Only two pillars on the south-western part were built on older remains, causing sagging eventually.

The three aisles were covered by a single roof on a skeleton made out of wood. The diagonally positioned buttresses at the corners of the nave indicate that there was the intention to add vaults, but instead, the wooden roof construction remained visible until 1824-1825, when a wooden ceiling was added.

At the north side, the side-aisle was extended to the side of the tower to form a separate space which until the Reformation might have been a chapel but was later used for storage. A large pointed window in its western wall was later, probably after the Reformation, closed and was restored during a restoration 1978-1980. The southern side-aisle originally had a similar window in its western wall, but this wall was replaced in the last decade of the 19th century by a completely blind wall, and the window did not return.

The Gothic church retained its original exterior until c. 1750. In the second half of the 18th century, or the early 19th century, the outsides of the walls were plastered and the buttresses at the south side removed. At the end of the 18t century, the passage of the tower to the nave was closed; in 1867 a new pulpit was put here. Also in 1867, a plastered barrel-vault replaced the ceiling and most of the windows were replaced by the then common round-topped ones with frames of cast iron. During the restoration of 1978-1980 the church mostly retained its 19th-century state.