Weststellingwerf municipality / Gemeente Weststellingwerf (Fr)
Weststellingwerf is a municipality in the south of the Friesland province. The administrative center is its largest village Wolvega. Part of the municipality are another 25 much smaller villages. For the time being this page only contains churches in Wolvega.
Weststellingwerf is een gemeente in het zuiden van de provincie Friesland. Hoofdplaats is het grootste dorp Wolvega. De gemeente telt verder nog 25 veel kleinere dorpen. Voorlopig bevat deze pagina alleen kerken in Wolvega.
Wolvega
The reformed church or Kerk op de Hoogte ('church on the hill') is an aisleless church built in 1646 out of the remains of a previous church. The tower has a wooden upper part which, after a fire, was rebuilt in 1894.
Location: Kerkstraat 7
De hervormde kerk of Kerk op de Hoogte is een zaalkerk die in 1646 verrees uit de restanten van een vorige kerk. De toren heeft een houten bovengedeelte dat na een brand in 1894 werd herbouwd.
Locatie: Kerkstraat 7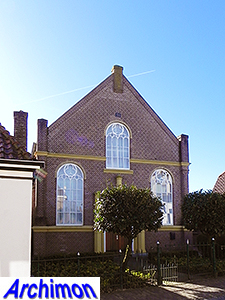 The Mennonite church is an aisleless building in a simple eclectic style, built in 1875. The name of the architect is not known.

Location: Hoofdstraat West 13

De Doopsgezinde kerk is een zaalkerk in een eenvoudige eclectische stijl, gebouwd in 1875. De naam van de architect is niet bekend.

Locatie: Hoofdstraat West 13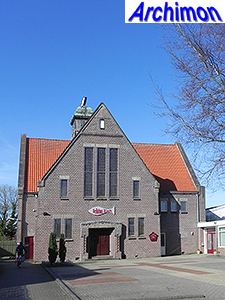 The Gereformeerde kerk is a cruciform church in Rationalist style, designed by A. Nauta and built in 1923.

Location: Kerkstraat 49

De Gereformeerde kerk is een kruisvormige kerk in Rationalistische stijl, ontworpen door A. Nauta en gebouwd in 1923.

Locatie: Kerkstraat 49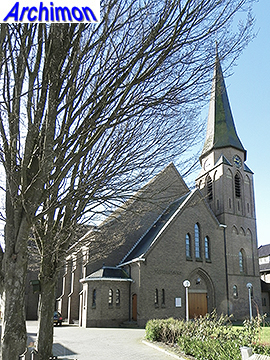 The catholic St. Franciscus van Assisië dates from 1938-1939 and was designed by J.Th.J. Cuypers and his son P.J.J.M. Cuypers. It incorporates the tower of its predecessor, a church by W. te Riele from 1914.

Location: Lycklamaweg 8

De katholieke St. Franciscus van Assisië dateert van 1938-1939 en is ontworpen door J.Th.J. Cuypers en zijn zoon P.J.J.M. Cuypers. Onderdeel is de toren van zijn voorganger, een kerk van W. te Riele uit 1914.

Locatie: Lycklamaweg 8


The chapel behind the church is a small building in neo-Gothic style, built as the mausoleum of nobleman and scientist Tinco Martinus Lycklama à Nijeholt. It was probably designed by W. te Riele and constructed in 1914, replacing a wooden chapel.

Location: Lycklamaweg 8

De kapel achter de kerk is een klein gebouw in neogotische stijl, gebouwd als grafkapel van edelman en wetenschapper Tinco Martinus Lycklama à Nijeholt. Het gebouw werd waarschijnlijk ontworpen door W. te Riele en gebouwd in 1914, ter vervanging van een houten kapel.

Locatie: Lycklamaweg 8
Back to the Province of Fryslân