Leeuwarden (Fr): St. Johannes de Doper (H.P.J. de Vries & A.H. Witteveen, 1932-1934)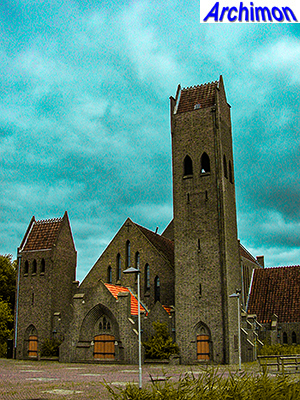 H.P.J. de Vries is not the most prolific architect as far as churches are concerned, but he did design a few interesting churches, mainly in the region of Rotterdam, his home town. His best work is probably this St. Johannes in Leeuwarden-Huizum, which he designed in conjunction with local architect A. Witteveen. It's a three-aisled cruciform church with a centralizing, so-called Christocentric ground-plan, designed in a combination of Traditionalist and Expressionist styles. The church is not oriented but faces the south. At the front on the south end it has two towers, one of which is as tall as the nave while the other is about twice as tall. In between the towers is a monumental portal, behind which is the actual facade. This facade has climbing windows. The nave has small pointed windows and is flanked by narrow side-aisles. These are covered by flat roofs. Both nave and side-aisles have big, stepped buttresses. The crossing, in between the nave and the wide transept, serves as the choir and is marked by a big, square crossing tower which also has stepped windows and has a short, straight closure at its back.
The church was closed in 2004 and now contains several offices.