Architects: Hendrick de Keyser (1565-1621)
Born in Utrecht as the son of a carpenter, Hendrick de Keyser at a young age became apprentice of Cornelis Bloemaert, a master sculptor. When Bloemaert moved to Amsterdam in 1591 De Keyser followed him, where he soon started working as an independent artist in various forms of art and in 1595 was appointed city stone mason and sculptor, in which function he, together with mason Cornelis Danckaertsz. and carpenter Hendrik Staets, was responsible for all public buildings. In 1612 followed the appointment as town architect. Although allowed to work as an independent artist, his work as an architect is mostly limited to Amsterdam. In his own time he was best known as a sculptor. His major work in this field is the tomb of William of Orange in Delft. In 1613 his work for the catholic St. Jan's cathedral in 's-Hertogenbosch lead to a conflict with the protestant authorities in his hometown, which was ultimately solved by his offer not to finish one of the sculptures.
De Keyser was one of the most important architects of Mannerism in the province of Holland. His style is often referred to as the Amsterdam Renaissance style. After he died in 1621 several of his projects were finished by his son Pieter. Several others of his eight children became artists too. Much if not most of De Keyser's architectural work are houses, but he is best known for some of the most important of the first protestant churches.
The following is an incomplete listing of De Keyser's architectural work.
1603-1611 Amsterdam (NH): Zuiderkerk
The first church in Amsterdam specifically built for the protestant community. Pseudo-basilican church with details in Manneristic style. The truncated gables at the north and south ends are similar to those on De Keyser's later Noorderkerk and Westerkerk. The rectangular windows are unique to this church, though. Although the nave was finished in 1611, the tower was only completed in 1614. It has a square base, on top of which is a octagonal section which is partly covered in sandstone and decorated with Ionic pillars. The spire is made of wood covered with lead.
1606 Amsterdam: Bushuis (city armoury)
Building in manneristic style, usually attributed to De Keyser. Now part of the university.
1608-1613 Amsterdam (NH): Commodity Exchange
Demolished in the 19th century.
1612 Midden-Beemster (NH): Reformed church
Church in Renaissance style for a new village. Building of traditional rectangular shape. Designed in cooperation with mason Cornelis Danckaertsz. and carpenter Hendrik Staets. Tower heightened by Pieter Post in 1661.
1618 Amsterdam (NH): House Bartolotti
Small city palace, mostly of brick with with countless natural stone sculpted details in Renaissance style. De Keyser sins against the rules of symmetry here by designing a building four traves wide, thus leaving the door offset to the right.
1618-1620 Delft (ZH): Town hall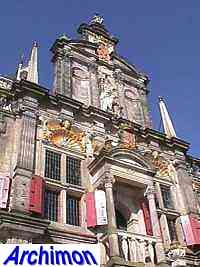 New town hall built around an older tower. The facade is an extravaganza of details in various styles, many taken from the then popular books with examples, while the rest of the building is in a much more moderate Manneristic style.
1620 Amsterdam (NH): upper section and spire Regulierstoren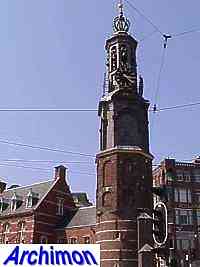 A new upper section and spire are added to a medieval tower, which today is known as the Munttoren. This was one of several similar projects De Keyser carried out in Amsterdam.
1620-1623 Amsterdam (NH): Noorderkerk
Centralized church without tower, intended to be finished in a relatively short period. The floorplan has an octagonal shape, while the superstructure has the shape of a Greek cross. The belltower on the crossing is by Hendrik Staets.
1620-1631 Amsterdam (NH): Westerkerk
Church built in a style similar to that of the Zuiderkerk, but with more refined details and side-aisles which are lower than the nave. The tower was built in 1638 in a form different from De Keyser's design.
Back to Architects