Zoetermeer (ZH): St. Nicolaas (J. Stuyt, 1914-1915)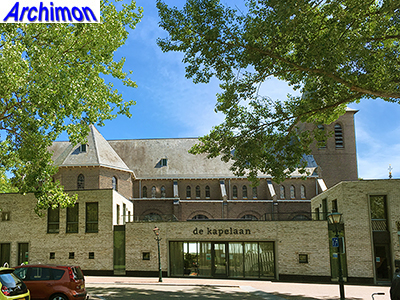 After the Reformation in 1574, when the catholics lost their church to the protestants, a large part of the population remained loyal to the old faith. A barn church outside the village was used until in 1817 a church was built in the heart of Zoetermeer, at just a short distance from the old church. This first church soon showed problems in its construction and was already replaced in 1857-1858 by a new one, a building in early neo-Gothic style designed by W.J. van Vogelpoel. That church did not last long either, having become much too small some five decades later.
In ca.1913 architect Jan Stuyt was commisioned to design a new church twice the size of the old one. Several designs were made and rejected until in March 1914 the approval of the bishop was asked and given to build the current church, a three-aisled cruciform basilica in a more or less neo-Romanesque style. The exterior shows some similarities to Stuyt's first church, the St. Pancratius in Sloten (NH), such as the circular windows of the side-aisles and the series of three small windows in the clerestorey.
The eastern part of the church consists of a transept with three-sided arms and a choir with a lower, half-round apse. At this part of the church Stuyt added his signature checkerboard frieze.
After a temporary church had been built the old church was demolished and construction of the new one began with the laying of the foundations. But before these were completed the first World War had begun, and although the Netherlands remained neutral many of the workers were mobilised while building materials became hard to get. Eventually in March 1915 the corner stone was laid and in November that year the church was completed, although it wasn't officially consecrated until May 1916.