Zoetermeer (ZH): reformed church (Jan Giudici, 1785-1787)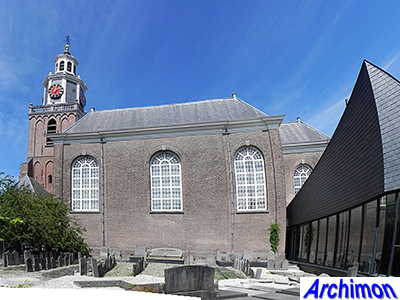 The old church of Zoetermeer actually stood in a different village, Zegwaart, although both villages belonged to a single parish and were only seperated from each other by a narrow canal. Only in 1935 did both villages officially become one.
The church was founded in the 13th century and dedicated to St. Nicolaas, although it had been preceded by a chapel elsewhere. Of the early church nothing remains, and by the 15th century it must have been completely replaced by a Gothic church. The lower part of the tower is the only remaining part of that church.
The Reformation in 1574 resulted in a change of ownership of the originally catholic church, as the protestants now had a monopoly on religious services. In 1638 a storm caused the tower to collapse. In 1642 the tower was rebuilt and was crowned by a new wooden upper part in Classical style designed by Dirck van Brantwijck. At the front of the tower two buttresses provided extra strength.
The oldest image of the church dates from 1762 and shows a three-aisled pseudo-basilica in Gothic style as well as the tower largely in its current form. In 1783 the church was in a bad state and architect Jan Giudici, an Italian who had settled in Rotterdam, was asked to investigate whether a restoration was feasible or if a replacement was needed. Interestingly, Giudici was a catholic and had previously designed the St. Rosalia hidden church in Rotterdam, which was destroyed by German bombs in 1940. The architect probably owned the assignment to his connection with the lord of Zegwaart, who was also a catholic but still had a say in church matters.
Giudici concluded that the church, except for the tower, needed to be replaced completely as restoration would be expensive and would only save the building for two more decades. The architect was now invited to design the new church. He designed a square church in Classical style which on the inside was divided by four pillars into a Greek cross. Where the choir had been a new one was built, unusual for a protestant church. At the north side came a monumental portal and at the south side of the tower a consistory was built.
Construction began in 1785 and was completed in 1787. In the 1950's the church was in a bad state because the foundations of the tower were too weak to support its weight. In the period 1958 until 1962 a major restoration resulted in the strengthening of the foundations and construction of the tower. Although much of the work was carried out under ground, the restoration also added the buttresses at the sides of the tower. Although damage to te church walls was also repaired, within a few years the church had to be closed because of the danger of falling stones. In 1967 a major restoration began, which was completed in 1972.