Sassenheim (ZH): reformed church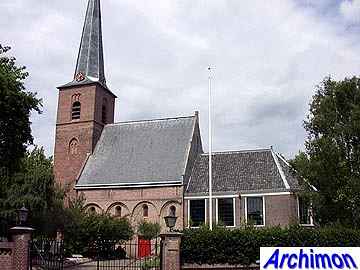 In the 11th century this small tuff church in Romanesque style was built and dedicated to St. Pancratius. The tower was probably added in the 13th century. It is supported by peculiar buttresses at the front corners.
In the 16th century part of the nave was demolished and replaced by a transept and a new choir. The walls of the nave were heightened in brick and the windows were enlarged in Gothic style.
In 1573 the church was badly damaged by protestant troops. In 1594 the nave was repaired for protestant services. The transept and choir were not rebuilt. In 1684 a new eastern part was built. During a restoration in 1971-193 underneath a coat of plaster on the tuff walls of the on the sides of the nave the remarkable but damaged Romanesque niches were discovered. These were reconstructed to their original state.