Rotterdam (ZH): Bergsingelkerk (Tj. Kuipers, 1914-1915)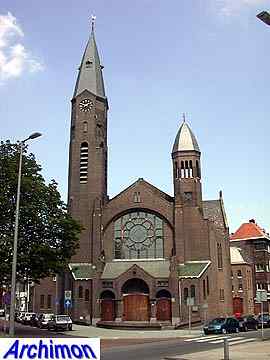 This is probably one of architect Tj. Kuipers' most monumental churches, thanks to its front with two towers of different sizes, which creates the impression that the church is much larger than it actually is. It is built in Rationalist style, with perhaps a few touches of moderate Jugendstil. The building, which occupies a rather small piece of land on the corner of two streets, has a centralized main space with a polygonal floor plan. A big rose-window in the front is sadly covered with safety-glass, which makes it hard to see. Other decorative elements include several small statues of pelicans. Next to the church, and attached to it, is the vicarage.
Originally a more ambitious design was chosen for this church. But late in 1913 a big sum of money was promised for the construction of another church for this denomination. That other church, the Nieuwe Zuiderkerk, would be designed by Tj. Kuipers as well and became his most important work. But as more money was needed for that church, the costs of the Bergsingelkerk needed to be cut down. The current church is a slightly simplified version of the original design.
This church became a protected monument in May 2000.