Nootdorp (ZH): reformed church (H.J. Mondt, 1894-1895)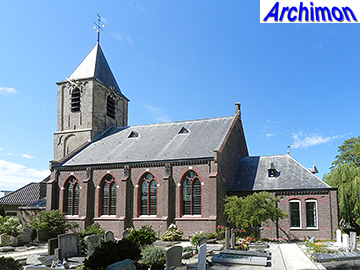 Nootdorp was first mentioned in 1329 but was probably founded as a peat settlement two centuries earlier. There may have been a series of mostly wooden churches on the current location before in the 16th century a more durable church was built, a small aisleless building in Gothic style, with a short tower at the front and on the other end a choir a bit lower than the nave.
The church did not serve the catholic parish for long, as in ca. 1574, during the Eighty Years War, it burned down. By that time the catholic faith had become illegal and when in 1577 the church was completely restored it had become a protestant one. In 1790 a portal was added to the south side, otherwise little changes were made to the exterior of the church. Like the church of nearby Pijnacker, in 1891 it was measured and photographed, probably because its fate had been decided.
In 1894 it was demolished. H.J. Mondt, the steady architect of the reformed community of nearby Den Haag and also known as a designer of shop buildings, had been commissioned to design a new church. He came up with an aisleless church in a simple neo-Gothic style, which was to be built on the old foundations, but with a slighty shorter and lower nave. Although the design included a presbytery with practically the same ground-plan as the former choir, only a bit shorter, instead a smaller one with a straight end was built. The old tower was restored.