Lisse (ZH): St. Agatha (J.H. van Groenendael, 1902-1903)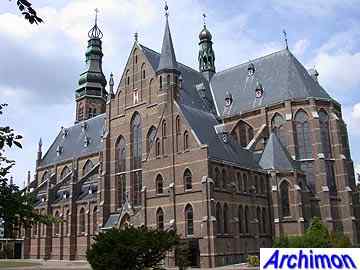 Although Holland officially became a protestant province during the Reformation, in some regions the catholics continued to form a large part of the population. One of these regions was the Bollenstreek, the area north of Leiden, famous for its flowerbulbs. Despite these large numbers of catholics no medieval churches were returned to them when the protestants lost their power after 1795. In Lisse, where catholics formed a vast majority of the population, a new church was built in 1842-1843. This church soon became too small, but a new one wasn't built until 1902. This church was designed by J.H. van Groenendael from Amsterdam, member of a family of architects and builders, and was built by his own construction firm. Despite the poverty of the parishioners a very impressive church was built, often dubbed 'the cathedral of the bulb-region'. Work started in April 1902 and in August 1903 the church was consecrated.
The St. Agatha is a three-aisled cruciform church in neo-Gothic style. Next to the facade is a hexagonal tower. Originally the tower was crowned by a tall spire, but after that one was found to be unstable in 1930 it was replaced by the current one in Baroque style, designe by J.Th.J. Cuypers.