Kethel (ZH): reformed Dorpskerk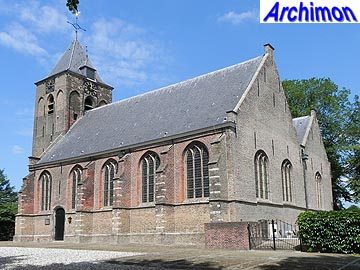 Although the former village of Kethel is now a part of the city of Schiedam, much of its village character has been preserved. Its oldest part is concentrated around the old village church. A chapel was built elsewhere in the village in ca. 1164 and was later replaced by a church on the current location. In ca. 1300 a tower was added to this church, which is now the oldest part of the current church. As the tower sagged to the east side, in the late 14th century the wall between the nave and the tower partly needed replacement and strengthening with heavy buttresses.
In the early 15th century the church was extended with a side-aisle and a second choir at the north side. Later that century the tower was heightened and given a new doorway. The original nave was replaced by a new one in late-Gothic style.
The church was adly damaged in 1573, during the Eighty Years War. What's left was handed to the protestants a few years later. The church was rebuilt, but withouth the choirs and the sacristy. The interior was adapted to protestant liturgy. In 1630 the church was completed.
In 1928-1929 the church was restored and a new consistory was added to the front of the northern aisle.