Werkhoven (U): O.L. Vrouw ten Hemelopneming (W. te Riele, 1907-1908)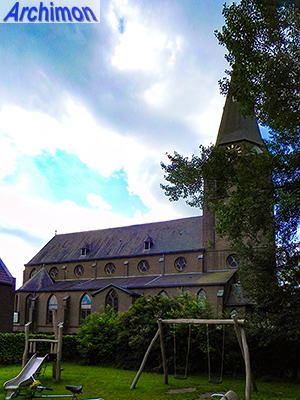 The first catholic church of Werkhoven after the Reformation was a 'hidden' church on the Nieuwendaal estate outside the village, built in 1698 and used by a so-called station which also encompassed Cothen and Driebergen. In 1818 it was rebuilt into a church in neo-Classical style. The Werkhoven parish was re-established in 1855 and continued to use the old church until 1908.
In 1905 plans were made to build a new church in the village, plans that were needlessly delayed by the objections of the protestants. Meanwhile achitect W. te Riele was chosen to design the new church, possibly because he had also designed the church of the neighbouring village Cothen. Work was tendered in June 1907 and before the Winter the presbytery and the foundations of the church were completed. Work on the church eventually began in March 1908 and the church was consecrated in October.
It's a three-aisled basilica in a sober neo-Gothic style, The clerestorey has round windows, possibly the only time Te Riele used this shape of window. The side-aisles at the east end in polygonal chapels flanking the choir and are covered by pyramid-roofs that stand out against the roofs of the side-aisles. The third trave of each side-aisle extends a little and forms a small chapel on each side. As is the case with many of Te Riele's churches, the west tower has no buttresses and is crowned by an octagonal spire.