Leersum (U): reformed church or MichaŽlkerk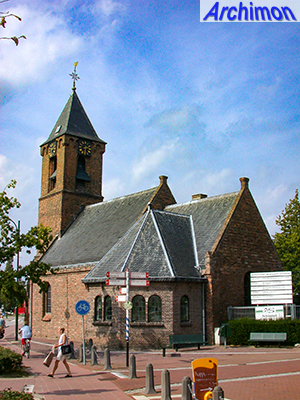 The church of Leersum was probably founded in the second half of the 13th century. It's unknown what the church originally looked like, as only its choir has been preserved, a rectangular space of two traves. The nave was replaced between 1300 and 1325. Ca. 1500 the tower in simple Gothic style was added.
In 1581 the church became a protestant one. It was repaired several times in the next two centuries. In ca. 1750 the nave was extended on the north side, and again in 1819 and 1895.
On the south side of the choir a consistory was built in 1928-1929, designed by J. van Lunteren. In 1936 architects J. and Th. Stuivinga restored the church, removing the coat of plaster from the nave walls and using traces of Romanesque windows underneath it to replaced large pointed windows from the 19th century. However, the outside cladding of bricks was also replaced in the process, destroying further traces from the history of the church. Only in the west facade, at the north side, traces of a small circular window, dating from before the construction of the tower, is still visible. A similar window on the south part can be seen in old engravings of the church.