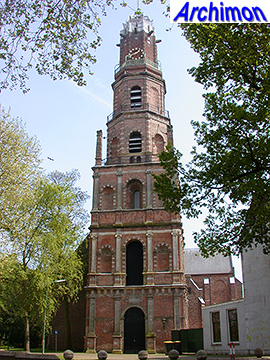 The reformed church was founded as the catholic St. Nicolaas in 1309, but the church was rebuilt after 1466. The most interesting parts of the church are the ambulatory and, especially, the tower. This tower was designed by Italian architect Alessandro Pasqualini and is a rare example of pure Italian renaissance architecture in The Netherlands. However, the upper part was designed by Amsterdam School-architect Michel de Klerk and built in 1921-1923.
Location: Kronenburgplantsoen 1
De hervormde kerk werd rond 1309 gebouwd als de katholieke St. Nicolaas, maar werd na 1466 herbouwd. De meest interessante delen van de kerk zijn de kooromgang en vooral de toren. Deze toren werd ontworpen door de Italiaanse architect Alessandro Pasqualini en is een voor Nederland zeldzaam voorbeeld van zuivere Italiaanse renaissance-architectuur. Het bovenste deel werd echter ontworpen door Amsterdamse School-architect Michel de Klerk en gebouwd in 1921-1923.
Locatie: Kronenburgplantsoen 1