Ijsselmuiden (Ov): reformed church or St. Chrispijn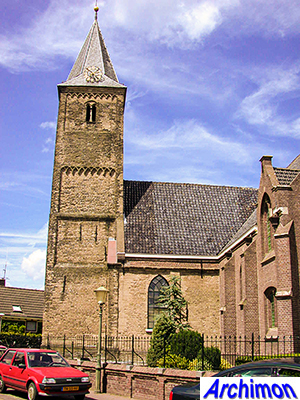 The church of Ijsselmuiden was probably founded in the 12th century. Until then the village belonged to the parish of Wilsum. The tower and the nave were probably built around 1200 and were in Romanesque style. It was an aisleless church built of tuff with at the east end a semi-circular apse. The tower was heightened in the first quarter of the 14th century.
In the 15th century the church was extended and altered in Gothic style, resulting in the replacement of the choir by a new one made of brick and the opening of pointed windows at the nave. In 1848-1849 the church was extended with a transept on the north side of the nave. The north transept was demolished in 1912, when the church was enlarged by state-architect A. Mulder.
In 1911 Mulder made several different designs for the reconstruction. In one design the nave would have been extended at the south side with a side-aisle of an equal size as the nave. The north transept would be saved. Two other designs had the church extended with a big transept in neo-Gothic style east of the second trave of the nave, with one design drastically widening the second trave. This part of the plan was abandoned, and eventually two traves of the nave survived, although the windows of the second were closed.