Ijsselmuiden (Ov): reformed church or St. Chrispijn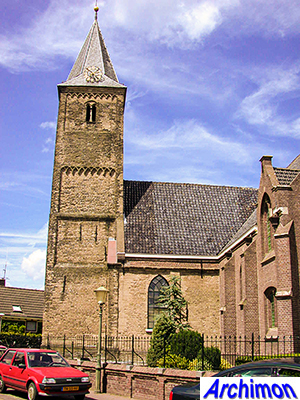 This is a single-aisled church with a Romanesque tower, a Gothic choir and a neo-Gothic main space that looks like a very big transept.
The church was built in ca. 1200. The lower part of the tower and the nave remain of that stage in its history. The upper part of the tower dates from the first quarter of the 14th century, and is also in Romanesque style. The Gothic choir is from the 15th century. It was built from brick but covered with tuff.
Of the old nave only a part has survived after the building was extended in neo-Gothic style. The various sources disagree on when exactly this happened. One says it was at the end of the 19th century, another says both 1848-1849 and 1911-1912. Most sources however agree that it was an unfortunate thing to do.