Borne (Ov): reformed church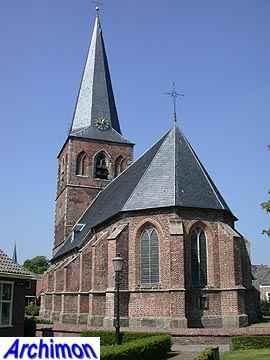 The old St. Stephanus, a name still used even though the church has been a reformed one ever since the Reformation, was first mentioned in 1206. The current church however is less old and entirely in late-Gothic style. It has a peculiar two-aisled nave, a narrower choir and a short, robust tower. The tower and the choir were probably built in the second quarter of the 15th century. The nave was completed in 1482. The partition between the two aisles cannot be seen on the outside; from the outside it looks like it's one aisle wide. The pillars that divide the space in two are placed in the axis, a rather strange solution. In ca. 1500 a sacristy was added to the north side.
While the nave and the choir were built of bricks almost exclusively, the tower is decorated with Bentheimer sandstone along the edges.