Lutjebroek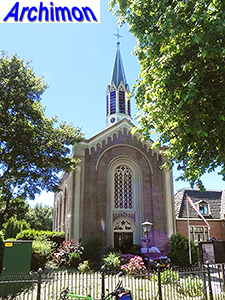 The former Reformed church is a small building in a peculiar early neo-Gothic style, designed by D. van der Tas and built in 1863, replacing a Gothic church. It was closed in ca. 1974 and was saved from demolition by locals. It's nowadays a cultural centre.
Location: P.J. Jongstraat 85
De Hervormde kerk is een klein gebouw in een eigenaardige vroege neogotische stijl, ontworpen door D. van der Tas en gebouwd in 1863 ter vervanging van een kerk in gotische stijl. De kerk werd gesloten in ca. 1974 en werd door de plaatselijke bevolking voor sloop behoed. Het is tegenwoordig een cultureel centrum.
Locatie: P.J. Jongstraat 85