Duivendrecht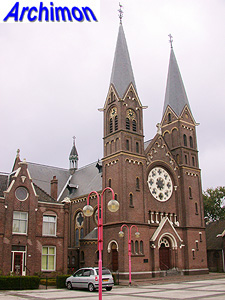 The St. Urbanus is an aisleless cruciform church in neo-Romanesque style, designed by Th. Asseler and built in 1878-1879. The church was given two towers, unusual for a village church, out of rivalry with the church of Ouderkerk.
Location: Rijksstraatweg 232
De St. Urbanus is een kruisvormige zaalkerk in neoromaanse stijl, ontworpen door Th. Asseler en gebouwd in 1878-1879. De kerk kreeg twee torens, ongebruikelijk voor een dorpskerk, uit rivaliteit met de kerk van Ouderkerk.
Locatie: Rijksstraatweg 232