Amstelveen-Bovenkerk (NH): St. Urbanus (P.J.H. Cuypers, 1873-1889)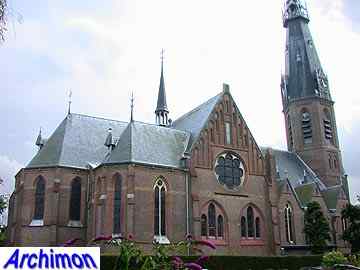 The parish of Bovenkerk was founded in 1275. Despite the Reformation, after which hidden churches were used, the village remained mostly catholic. In 1805 finally a real church was built again, which eventualyturned out to be too small. In 1872 P.J.H. Cuypers was commisioned to design a new church, which should become the biggest of the region. Work began in 1873 and was temporarily ceased in 1875. Not only had the parish no funds to continue, it turned out that the foundations were to weak for the soil, causing the church to sag. In 1887 work finally continued with the construction of the choir and the left transept-arm. In 1888 this part was completed. In 1889 the church was finished with the construction of the tower.
The St. Urbanus is a highlight of the second period in Cuypers' career. It is a three-aisled hall-church in neo-Gothic style, even though the exterior suggests a pseudo-basilica; all three aisles are covered by the same roof, although the side-aisles have seperate gables and roofs square on the axis of the nave, similar to many of Cuypers' other churches built after 1870. On the outside it looks as if the central aisle is much higher than the side-aisles, but inside three aisles are equally high. The church has a hexagonal tower, inspired by that of the Jacobskerk in Den Haag; this allowed Cuypers to have the main entrance parallel with the road and still have the choir at the east, which was considered of high importance back then. The space between transept and choir is filled with a sacristy on the south side and a lateral choir on the north side. Standing next to the church is the presbystery, which was also designed by Cuypers.