Waalre (NB): commemorative chapel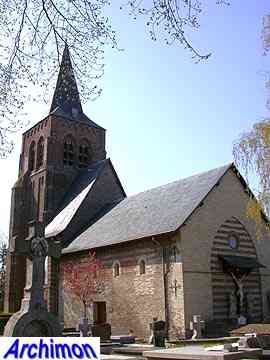 Many old churches have a long history of rebuilts, alterations and demolition of parts. This is also true for the commemorative chapel in Waalre, which shows its history in a very peculiar way.
Although now called a chapel, this once was a church, consecrated St. Willibrordus. This was one of the oldest churches in this province. Built in the 11th or 12th century as a small, single-aisled tuff Romanesque church, it was enlarged in the 15th century. A rectangular choir was added in 1425, while the nave was heightened and given larger Gothic windows in 1469. Also a new trave was added, as well as a tower in Campine Gothic style. After a long period of protestant use the church was returned to the catholics in 1815. In 1854 the old choir was replaced by a new neo-Gothic transept and choir. Despite these measures the church became too small for the growing parish. In 1925 a new St. Willibrordus was built and the old church quickly fell into decay.
After several years in which the future of the church was uncertain, in 1940 the building finally was restored. During the work people discovered that the church wasn't the Gothic building they thought it was. The remains of the Romanesque nave were discovered, and architect H.W. Valk decided to reconstruct it in its old form. The walls were lowered, the windows filled in and replaced by smaller ones, while a new roof was added that only covered the Romanesque part of the nave. The higher originally Gothic western trave and the tower were preserved as they were while the 19th-century additions were demolished, resulting in this strange and rather artificial combination. The church was restored to a state in which it never had been before.
In 1945 the former church became a chapel commemorating the soldiers from this province who died in World War Two and the wars in Indonesia.