Oosterhout (NB): St. Jan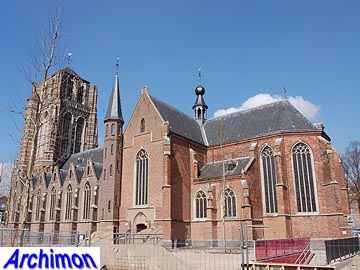 Although never completely finished, the tower of the St. Jan (also known as St. Johannes de Doper, St. John the Baptist) is an impressive piece of work, an example of the last phase of Brabantine Gothic. It was intended to be a copy of the tower of the Great church in Breda, albeit mostly executed in brick, with natural stone used in decorative layers only. Work started in 1519, and when all activities stopped in 1527 (other sources say 1547 and 1552) only the first two segments and half of the third were completed.
The church itself is older. Starting from ca. 1470 a three-aisled Romanesque church was replaced by this late-Gothic church. The choir with lateral chapels, the transept and the western part of the originally three-aisled pseudo-basilica were finished before 1500. The rest of the nave was finished shortly after that.
In 1648 the church was confiscated by the protestants. In 1809 king Lodewijk Napoleon returned it to the catholics.
Due to a restoration by P.J.H. Cuypers the age of the church is not clearly visible. From 1880 until 1883 the church was restored by Cuypers, assisted by J.J. van Langelaar, and as often the architect had little respect for the old church and its historic value. Two more side-aisles were added, with gables for each trave. The transept was widened, as well as given an octagonal stair-tower. Several chapels and a portal were added to the church as well, but these were all removed again during a restoration between 1974 and 1977.