Nuenen (NB): St. Clemens (C. Weber, 1871)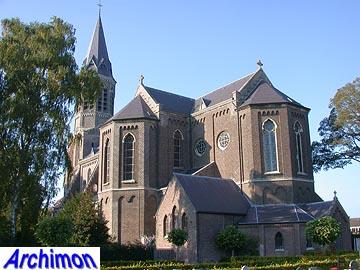 By the end of the 15th century Nuenen possessed a fairly large church in Gothic style, a cruciform basilica with a tall tower. After 1648, when the protestant occupiers outlawed catholicism and confiscated all churches, the church fell into decay. In 1793 the tower collapsed and ruined much of the church. Only a short stump of the tower remained, as well as some parts of the nave and transept. The ruin was returned to the catholics five years later.
Meanwhile, the catholics of the area had been using two churches in the vicinity of Weert, in Spanish territory. However, in 1676 the people of Nuenen were allowed to have a barn church in their own village. The first barn church was replaced by a second one in 1695. And although the old church, or what was left of it, was returned in 1798, the parish never used it again. The village had shifted, and the old church was no longer at its center. Instead, the barn church was renovated in 1823 and used until it was replaced. In 1871 work began on a new church which was built behind the barn church. This church, the current one, was completed the same year. It's a cruciform basilica, designed by C. Weber, who used a combination of Neo-Gothic and Neo-Romanesque styles. It was the second church Weber designed in this combination, after his church in Winssen (G) built in 1860-1863.
At the front of the church is the tower, which is perhaps the most "Romanesque" of the entire church. It has three square segments and an octagonal upper part. The three segments of the square part are distinctively different, with the third segment having two deep niches on its three visible sides. The nave is of the basilican type, with a clerestory with triplet windows. Although the nave has plaster vaults, there is an almost massive flying buttresses in between every two traves. The transept has polygonal closures with narrow pointed windows and "Romanesque" niches in the lower part. The apse of the choir is largely similar, although it has a low ambulatory. The choir itself is also illuminated by four circular windows.
In ca. 1910 a sacristy and chapels were added by architect J. Stuyt.