Moergestel (NB): St. Joannes Onthoofding (H.W. Valk, 1930-1932)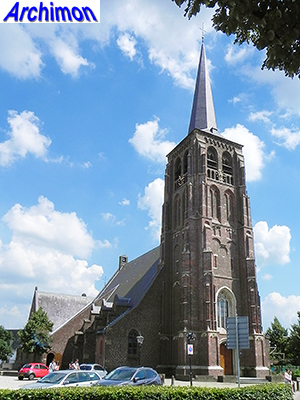 Moergestel originated from four hamlets and became a parish probably in the 12th century. Nothing remains of the original church which, or perhaps even a successor, was destroyed in 1388 by troops from Gelre. In c. 1550 the current tower in Campine Gothic style was built. The church was destroyed by fire in 1584 and rebuilt after 1610. In 1648 the catholic religion was outlawed and the church was taken by the tiny protestant minority which neglected its maintenance.
In 1809 the church was returned to the catholics in a bad state. In 1880 it was elaborately restored and enlarged by C. Weber. A description of the church made in 1931 says it was a three-aisled cruciform church with transept and choir lower than the nave. At that moment it was already known this church had not much time left.
In 1929 architect H.W. Valk had been contacted, perhaps due to his church in nearby Oisterwijk, for the design of a new church. In January 1931 the parish made its plans public to replace the church by a new one, and the architect was erroneously called J. Valk in several contemporary newspapers). In April construction was tendered and the old church was demolished shortly thereafter, except for the tower which was restored. In August the construction of the new church began and on May the 30th the next year it was consecrated.

Valk's church is a wide cruciform pseudo-basilica in Traditionalist style. Characteristic for this church is the low gutter height of the nave as compared to the height of its roof. Therefore, the traves on both sides were raised in three places with gables between the buttresses, thus providing space for large pointed windows. In the interior, the nave is covered by brick vaults and is closed off with a triumphal arch, which manifests itself on the outside as a gable with a small belfry, against which the lower choir with its three-sided abside is built. The beginning of the choir is also the place where the transepts begin. At right angles to the transept on the north side is a sacristy. On the south side, the fourth bay has been extended to the front of the transept.