's-Hertogenbosch (NB)
's-Hertogenbosch is the capital of the province of Noord-Brabant. The city is also known as Den Bosch. It was founded in the 12th century as a fortified town, protecting Brabant against agression from both Gelre and Holland. The city flourished until the early 16th century. It was the fourth city of the Duchy of Brabant and became the second largest population centre in the territory of the present Netherlands, after Utrecht. A long period of decline began with the Eighty Years War, especially after the mostly catholic city was captured by the protestants in 1629. The city became the capital of the newly established province of Noord-Brabant in 1815.
's-Hertogenbosch is de hoofdstad van de provincie Noord-Brabant en is ook bekend als Den Bosch. 's-Hertogenbosch werd in de 12e eeuw gesticht als een versterkte stad, ter bescherming van Brabant tegen Gelre en Holland. De stad maakte tot in de vroege 16e eeuw een grote bloei door. Het was de vierde stad van het hertogdom Brabant en groeide uit tot de op een na grootste stad op het grondgebied van het huidige Nederland, na Utrecht. Een lange periode van verval begon met de Tachtigjarige Oorlog, vooral nadat de voornamelijk katholieke stad in 1629 werd ingenomen door de protestanten. De stad werd in 1815 de hoofdstad van de toen gevormde provincie Noord-Brabant.
's-Hertogenbosch's most important church is the St. Jan's cathedral. It was originally built as a parish-church in the course of the 15th and 16th centuries, succeeding a 13th-century Romanesque church and retaining its tower. The huge church is the major example of Gothic in the country.
Location: Parade
De belangrijkste kerk van 's-Hertogenbosch is de St. Jan's kathedraal. Hij werdoorspronkelijk gebouwd als een parochiekerk gedurende de 15de en een deel van de 16de eeuw en verving een 13de eeuwse romaanse kerk waarvan de toren behouden bleef. De enorme kerk het belangrijkste voorbeeld van de gotiek in Nederland.
Locatie: Parade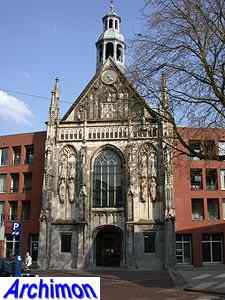 The St. Antoniuskapel was originally built in 1491 and altered several times since. The Gothic facade however survived, and a new chapel was attached in 1956.

Location: Hinthamerstraat 217

De St. Antoniuskapel werd oorspronkelijk gebouwd in 1491 en werd sindsdien verschillende keren gewijzigd. Hoewel de kapel in 1956 geheel werd vervangen, bleef de gotische gevel steeds behouden.

Locatie: Hinthamerstraat 217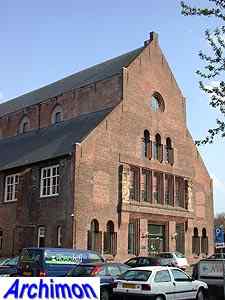 The former St. Jacob is a three-aisled building in Gothic style, dating from the 16th century. It was closed by the protestants in 1629 and was used as a stable, arsenal, barracks and museum until in 1988 it finally became the building of the local department for architectural history and archeology. The original facade was replaced by the protestants. That facade was itself replaced by a new one by O. Leeuw in 1924-1925, when the building housed a museum.
Location: Bethaniëstraat 4
De voormalige St. Jacob is een driebeukig gebouw in gotische stijl, daterend uit de 16e eeuw. De kerk werd in 1629 door de protestanten gesloten en diende daarna als stal, arsenaal, kazerne en museum, tot uiteindelijk in 1988 de gemeentelijke afdeling Bouwhistorie, Archeologie en Monumenten het gebouw in gebruik nam. De originele gevel werd vervangen door de protestanten. Die gevel werd zelf vervangen door een nieuwe door O. Leeuw in 1924-1925, toen in het gebouw een museum was gevestigd.
Locatie: Bethaniestraat 4
The reformed Grote Kerk is a building in sober Neo-Classical style, designed by J. de Greef and built in 1818-1821.
Location: Kerkstraat 20  
De hervormde Grote Kerk is een gebouw in sobere neoclassicistische stijl, ontworpen door J. de Greef en gebouwd in 1818-1821.
Locatie: Kerkstraat 20
The Walloon church was built in 1847 on the location of an earlier church, itself a modified brewery. It was designed in early Neo-Gothic style by A. van Veggel. In 1956 it became a Lutheran church. The Lutherans closed the church in 2004.
Location: Verwerstraat 49
De Waalse kerk werd deze kerk gebouwd in 1847 op de locatie van een eerdere kerk, in feite een verbouwde brouwerij. De kerk werd in vroege neogotische stijl ontworpen door A. van Veggel. In 1956 werd het een Lutherse kerk. In 2004 werd de kerk gesloten.
Locatie: Verwerstraat 49
In 1857-1859 architect Van Veggel added the Neo-Gothic church of St. Joseph to the Redemptorist monastery which was built to his design a few years earlier. Originally the facade was ornamented with pinacles at the top, but these were removed in 1948-1949. After it closed as a church it became a restaurant and party center, and as such an excuse for the diocese to want to have all closed churches demolished.
Location: St. Josephstraat 15
In 1857-1859 voegde architect Van Veggel de neogotische St. Josephkerk toe aan het Redemptoristenklooster dat een paar jaar eerder volgens zijn ontwerp was gebouwd. Oorspronkelijk was de gevel aan de bovenkant versierd met pinakels, maar deze werden in 1948-1949 verwijderd. Na sluiting van de kerk gesloten werd het een restaurant en partycentrum, en als zodanig een excuus voor het bisdom om alle gesloten kerken te willen slopen.
Locatie: St. Josephstraat 15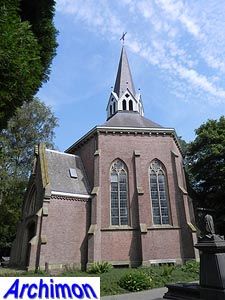 The Bisschopskapel is a centralizing chapel designed in Neo-Gothic style by L.C. Hezenmans. The chapel was built on a cemetery in 1882 as the tomb for bishop Zwijsen, and has since been also the grave for several of his successors.
Location: Herven 1
De Bisschopskapel is een centraliserende kapel in neogotische stijl, ontworpen door L.C. Hezenmans. De kapel werd gebouwd op een begraafplaats in 1882 als het graf van bisschop Zwijsen, en is tevens het graf van een aantal van diens opvolgers.
Locatie: Herven 1
The former Gereformeerde kerk or Pelgrimskerk was built in 1896. In 1935 the neo-Gothic facade was replaced by a new one designed by J. Wilschut. The church was closed in 1969, had several other functions since and was demolished in 2014.

Location: Jan Heinsstraat 12
De voormalige Gereformeerde kerk of Pelgrimskerk werd gebouwd in 1896. In 1935 werd de neogotische gevel vervangen door een nieuwe naar ontwerp van J. Wilschut. De kerk werd gesloten in 1969, had daarna een aantal andere functies en werd uiteindelijk in 2014 gesloopt.
Locatie: Jan Heinsstraat 12
The church of the Capuchin friars, or H. Hartkerk, was built in 1896-1897 and was designed by F. Baijens in a simple neo-Classical style.
Location: Van der Does de Willeboissingel 12
De Capucijnenkerk, of H. Hartkerk, werd gebouwd in 1896-1897 en werd ontworpen door F. Baijens in een eenvoudige neoclassicistische stijl.
Locatie: Van der Does de Willeboissingel 12
In 1901-1903 the Noviciaatskapel was added to the Redemptorist monastery. The Neo-Gothic chapel was designed by an unknown architect.
Location: Sint Josephstraat 13
In 1901-1903 werd de Noviciaatskapel aan het Redemptoristenklooster toegevoegd. De neogotische kapel werd ontworpen door een onbekende architect.
Locatie: Sint Josephstraat 13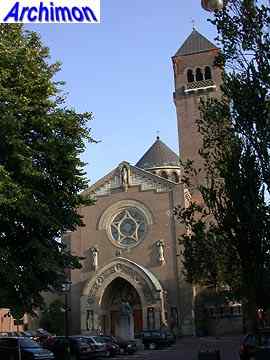 The St. Jacob is a centralizing church in a neo-Romanesque style and was built in 1907. The church was designed by architects Jos. Cuypers and Jan Stuyt. It was closed in 2002 and reopened as a museum in 2007.
Location: Hinthamerstraat 177
De St. Jacob is een centraalbouw in neoromaanse stijl uit 1907. De kerk is een ontwerp van Jos. Cuypers en Jan Stuyt. Na sluiting 2002 werd de kerk in 2007 in gebruik genomen als een museum.
Locatie: Hinthamerstraat 177
The St. Catharina was designed by Jan Stuyt and completed in 1917. This building was the third church in succession built on this location. The closure of the choir, which stands on a bridge-like construction over the Binnendieze river, has been part of all three churches.
Location: Kruisbroedershof 4
De St. Catharina is ontworpen door Jan Stuyt en voltooid in 1917. Dit gebouw was de derde kerk in successie op deze locatie. De koorsluiting, die op een brug-achtige constructie over de rivier de Binnendieze staat, heeft deel uitgemaakt van alle drie de kerken.
Locatie: Kruisbroedershof 4
The chapel of the St. Janscentrum, the seminary of the diocese, was built in 1928 and was designed by J. Duijnstee.
Location: Papenhulst 6
De kapel van het Sint-Janscentrum, het seminarie van het bisdom, werd gebouwd in 1928 en is ontworpen door J. Duijnstee.
Locatie: Papenhulst 6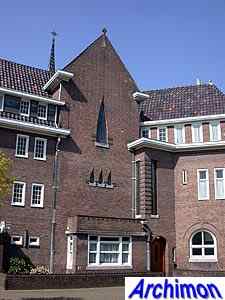 The Nemiusklooster or convent of the Zoete Moeders was built in 1929. It was designed by H.W. Valk. The chapel is in Expressionist style.
Location: Nemiusstraat 4
Het Nemiusklooster of klooster van de Zoete Moeders werd gebouwd in 1929. Het werd ontworpen door H.W. Valk. De kapel is in expressionistische stijl.
Locatie: Nemiusstraat 4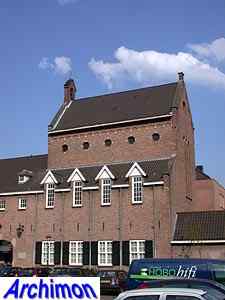 The chapel of the psychiatric hospital Reinier van Arkel was added to a former barracks in 1936 and was designed by J. van Dillen.
Location: St. Jacobsstraat
De kapel van het psychiatrisch ziekenhuis Reinier van Arkel werd in 1936 toegevoegd aan een voormalige kazerne en is ontworpen door J. van Dillen.
Locatie: St. Jacobsstraat 
The H.H. Hartenkerk is one of the last churches, if not the last, designed by A.J. Kropholler. It was built in 1950.
Location: Rubensstraat 62
De H.H. Hartenkerk is één van de laatste kerken, zo niet de laatste, ontworpen door A.J. Kropholler. De kerk werd gebouwd in 1950.
Locatie: Rubensstraat 62
The San Salvator is the church of Orthen, a former village now part of the city. It was designed by architects H.W and P.W. de Graaf and is a good example of the Traditionalist Bossche School style. It was built in 1955-1956.
Location: Schaarhuisstraat 14
De San Salvator is de kerk van Orthen, een voormalig dorp dat nu deel vormt van de stad. Het werd ontworpen door de architecten H.W. en P.W. de Graaf en is een goed voorbeeld van de traditionalistische Bossche School-stijl. De kerk werd gebouwd in 1955-1956.
Locatie: Schaarhuisstraat 14
Back to the Province of Noord-Brabant