Diessen (NB): St. Willibrord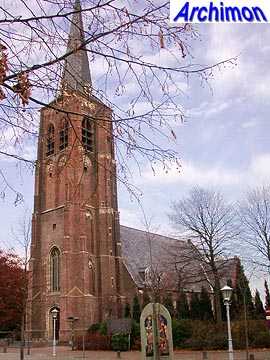 According to some sources, Diessen was once property of St. Willibrordus, and a chapel was founded by this archbishop in the early 8th century. However, although this is not unlikely, there is no realevidence for this. The first written mention of a chapel or church in Diessen dates from 1069.
Nothing of this early church or chapel remains. The church is a Gothic three-aisled pseudo-basilica, with a tower in Campine Gothic style and a transept and a choir that both are lower than the nave. The oldest part is the choir, which in ca. 1400 replaced the old chapel. About 50 years later the nave was built, to which in ca. 1500 a transept was added, as well as a sacristy to the south side. After 1525 the tower was built and the nave was lengthened with one more trave.
In 1648 the catholics lost their church to the new protestant authorities, who not only used it as a church for the small protestant community but also used it as a school and for storage. The catholics built a barn church in 1672, which lasted until 1736, when it collapsed. In 1737 a new barn church was built, which was used until 1798. In that year the old church was returned to them. In 1836 the churchwas adapted to the taste of that time, the neo-Classical style. Windows were enlarged, a plaster vault was added, pointed arches were transformed into round ones and the octagonal pillars were sculpted into round ones. Only some of the changes were made undone during a restoration in 1970-1972.