Dieden (NB): reformed church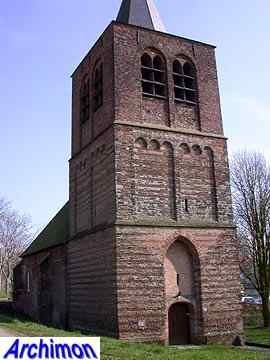 The former reformed church of Dieden is a picturesque but rather neglected looking building. Unlike other villages of the former Ravenstein municipality Dieden never was part of the catholic enclave but fell under the jurisdiction of the province of Gelderland instead, which explains why the medieval church became a protestant one.
The nave is mostly built of tuff and dates from the second half of the 12th century. In the 15th century it was heightened and given buttresses and pointed windows. Difference in size and colour of the stones remind of this. In the same century the tower was built. This is made of brick, but with decorarive layers of tuff stone taken from the old west facade. The choir and northern transept-arm added in the same period were removed before 1732, with only the closed arches reminding of them.
The church for a long time was used for storage. In 1970-1971 the building was restored. A new spire was added as well as a new roof, while the tower's stair-turret was reconstructed. From 1986 until 2003 the former church was rented by an artist, who lived in the church and used it as a studio. Currently the building is in a bad condition.