Valkenburg (L): H.H. Nicolaas en Barbara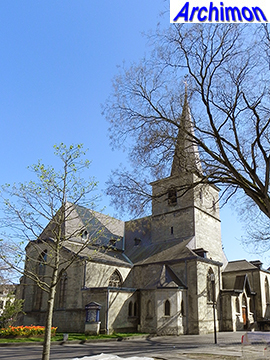 The church of Valkenburg is first mentioned in 1228, albeit as a chapel of the Schin op Geul parish. In 1281 Valkenburg became itself a parish and the chapel became a church. A tower had been added already in the mid-13th century, although it was not completed until ca. 1465. The church underwent some major changes in the 14th and 15th centuries. A detailed drawing dated 1749 shows it as a short cruciform pseudo-basilica in Gothic style.
Until ca. 1600 this church was consecrated to St. Nicolaas alone, later St. Barbara was added as a patron. In 1632 the protestant Republic conquered the town and in 1661 it officially became part of the Republic. Unlike in most parts of the Republic, the Catholics of Valkenburg kept some religious liberties. However, they were forced to share their church with the protestants. Although the latter was only a small minority they were powerful enough to forbid the Catholics to use an organ. The French occupation of 1794 did not bring back religious freedom, and until 1808 the simultaeneum continued, although officially it wasn't ended until 1819.
Of the original 14th-century church very little remains today. Only the tower and part of the nave are really old. And even the tower could have been demolished if Valkenburg's town-council had its way in 1846 when it preferred to replace the tower by a new one rather than restore the old one. When the church returned fully in Catholic hands in 1819 it obviously was much too small. In 1833 the nave had been extended while a new choir in neo-Classical style was added in 1836. C. Weber made a plan for a second enlargement in neo-Gothic style in 1875, but that plan was not executed. In 1891 a new portal with chapels on both sides was added to the front of the church, designed by P.J.H. Cuypers. This architect also drastically extended the building in 1904. The transept was extended with two-sided closures, a three-aisled trave was built at the back of it and behind that a new choir replaced the former one. At the north side a curious box-like chapel arose in the west corner between the nave and the transept. All changes were made using marl, just like the original parts of the church.