Stevensweert (L): St. Stephanus (P. Rutten, 1781)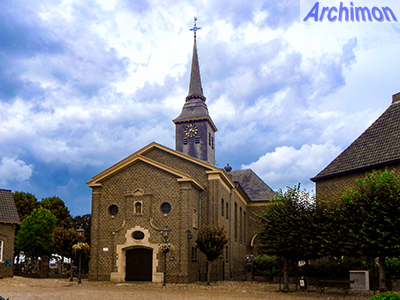 Although the small fortified town Stevensweert had fallen in the hands of the protestant Republic in 1702, the catholic church retained its position as the dominant religion. The local church however, a medieval building dating back to the 13th century, had fallen into decay and needed to be replaced. Little is known about this church, but it assumed it was in Romanesque or early Gothic style. It was smaller than the current church and had a small, probably wooden, tower on top. When in 1633 the town was fortified with earthen ramparts one of these was laid exactly against the west facade of the church, which was probably entered through a portal on the south side since.

Local architect Petrus Rutten designed a church in Classical style, with a ground plan in de shape of a Greek cross, thus with arms of almost equal length, and with a wooden tower at the front of the roof. To create some space between the church and the earthen ramparts west of the church the new church was not oriented, with the choir facing the north instead of the east. For the same reason the western transept-arm is slightly shorter than its counterpart. The church was completed in 1781.

The church suffered from war damage in 1944-1945 and was in 1948 restored by P. Cuypers jr.. At this occassion the nave was extended at the front, and a portal with Baroque details was added.