Maastricht (L): St. Hubertus (J.H.J. Kayser jr., 1924-1925)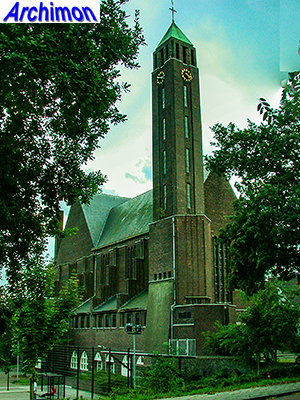 Early in his career, architect Jules Kayser, son of Johannes Kayser, built a few churches in an Expressionist style related to the Amsterdam School. This St. Hubertus is probably the most impressive of these. Interestingly, it shows remarkable similarities to a never realized design for a church in Slagelse, Denmark, made by A.J.N. Boosten in 1922.
It's a big and remarkably tall three-aisled building made of dark coloured bricks. The church has a basement which was intended for catholic community use. This part of the building is illuminated by pointed windows of a fairly large size, while the actual church has narrow windows. The nave is supported by big stepped buttresses.
The church was abandoned in 2007 and officially closed in 2009 and is currently a fitness center.