Heerlen (L): St. Pancratius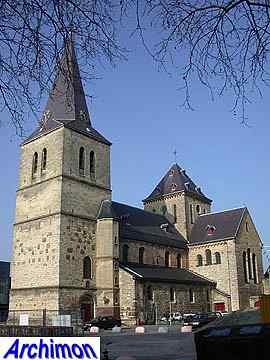 Probably as early as the 4th century there must have been a chapel or church in Heerlen, which was then called Coriovallum and was an important Roman settlement. In the year 1065 a small church, more a chapel, which was dedicated to St. Andreas, is known to have existed on this location. This building was later replaced by the current church dedicated to St. Pancratius. The nave dates from the 12th century and is in Romanesque style. The tower is in the same style and dates from 1394 and originally had a defensive function.
Between 1661 and 1830 the church was used by both catholics and protestants. After the protestants had been given a church of their own in 1838 the St. Pancratius was restored and repaired. Work lasted until 1863. An important change was the replacement of the choir by a new neo-Gothic one, possibly designed by P.J.H. Cuypers. A polygonal stair-turret was added to the tower in 1862.
In 1901-1903 Jos. Cuypers restored the church but also extended it. The neo-Gothic choir and part of the nave were demolished and replaced by a transept with crossing-tower and a new choir, all in neo-Romanesque style and built with the same natural stone as the old part of the church.