Berg en Terblijt (L): H.H. Monulphus en Gondulphus (F.P.J. Peutz & W. Sprenger, 1931-1933)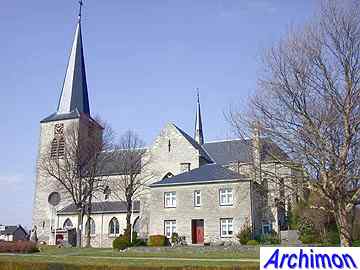 Already in the 12th century there was a church in Berg. In 1798 this church was closed by the French occupiers, after the priest refused to pledge loyalty to the French revolution. The next three years a cave was used as a church. In 1801 the parish returned to the old church, until it was replaced in 1933. In 1959 it was demolished.
In 1931 work on a new church started. Architects F.P.J. Peutz and W. Sprenger designed a three-aisled cruciform basilica. At first sight a very traditional building in neo-Gothic style. A closer look however reveals that this is a rather stylized neo-Gothic. Especially the keyhole-shaped windows in the clerestorey are peculiar. The church was entirely built of marl, the natural stone of the region. During a recent restoration damage to this rather soft natural stone was repaired.