Zaltbommel (G): Gasthuiskapel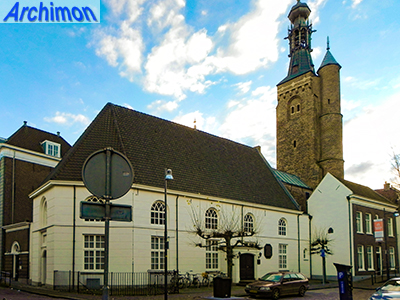 This church was built as the chapel of a hospital in the 15th century and is still part of that complex. The tower formally never belonged to the hospital. Its lower part dates from the second half of the 15th century, the upper part is from the early 16th century, while the spire is from ca. 1530.
The actual church is an aisleless building from the 15th century. Originally it must have been in Gothic style, but since the Reformation many changes were made. Although the chapel was still part of the hospital, it no longer was catholic. The original entrance on the west side was replaced by a new one at the choir. In 1772 two small houses at the north side were demolished, damaging much of the original brickwork at this side and necessitating its replacement. The church still has its 16th-century barrel-vaults.
Until ca. 1830 the chapel served a religious purpose. In 1850 it was transformed into an infirmary. Internally the space was divided by the addition of a floor, to which the tall pointed windows were replaced by the current ones. All buttresses were rermoved and the outside was covered with a coat of plaster. In 1935 the board of the hospital asked permission to demolish most of the chapel. Instead, it was restored.
Until 1997 it served as a medical center. After several more years it was decided to give the chapel a cultural function. In 2004-2005 the buiding was again restored and most of the dividing floor removed.