Silvolde (G): St. Mauritius (J.H. Sluijmer, 1931)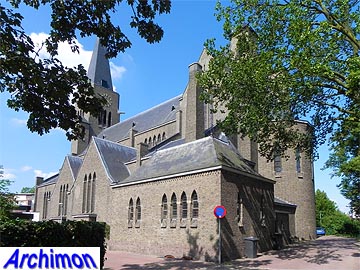 After the Reformation, the first catholic church of Silvolde was a barn church. This building was later replaced by a new churcg in neo-Classical style, built in 1836-1838 and designed by H. Bauer. A neo-Gothic tower was added later and was possibly designed by W. te Riele. When that church had become too small, it was replaced by a new church on the same location. Meanwhile, the parish used a temporary church nearby.
The current church was built in 1931 and was designed by J. Sluijmer. The building has many characteristic elements of Traditionalism, although of a kind unrelated to the modesty of the Delft School, and shows aspects of Expressionism as well. It's a tall three-aisled basilica with a high front tower. It has a christocentric ground plan, with the choir being a space that holds the middle between a crossing-tower and a transept and which at the back is closed by a semi-circular apse. Similar but smaller apses close the side-aisles. The choir is covered by a big Rhenish helm and is flanked by two turrets. On both sides of the nave the side-aisles have two more transept-like spaces, of which the one more at the back is wider than the other one and all of which have an extending confessional. The tall front tower has stair-turrets on both sides. The church was almost entirely built out of bricks, with a sparse use of natural stone. Both the exterior and the interior are unplastered and the entire interior is vaulted..
In 1979 the choir was enlarged (probably internally only) by J.H. Sluijmer jr., son and former compagnon of the original architect.