Nijmegen (G): St. Jozef or Titus Brandsma Gedachteniskerk (B.J. Claase, 1907-1909)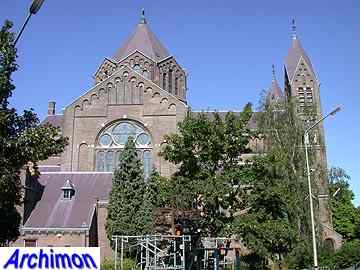 At the end of the 19th century the Jesuites in Nijmegen, who had been active there since the end of the 16th century, expanded their activities in the city. They founded a second church in a new neighbourhood just outside the old center to relieve their small medieval church and commissioned architect N. Molenaar Sr. in 1887 to design a temporary church. A few years later they would replace their old church in the center by a bigger one by the same architect.

The temporary church was dedicated to St. Jozef and built in 1888. It still exists, but in 1922 it became a presbytery and was probably extensively modified for this purpose; in any case, it doesn't look like a church very much. As a church it had been replaced in 1909 by the current church next to it. Although Molenaar had made a sketch for a permanent church in 1887, it was never built. Instead, in 1907 local architect B.J. Claase, who had work as an overseer for Molenaar, made an entirely new design. Claase designed a cruciform basilica in a neo-Romanesque style inspired by the late-Romanesque churches of the German Rhineland, complete with towers flanking the facade on both sides, a cloverleaf-shaped eastern part and, most notably, a big polygonal crossing-tower.

The church survived the bombing and fighting of 1944, unlike some buildings in its vicinity. After the war it was largely hidden from view by two ugly blocks of flats that replaced the elegant houses that had flanked the path to the church. It served as a parish church for a few decades until the Carmelites bought it in 1998. That year the name was changed to Titus Brandsma Gedachteniskerk (Titus Brandsma memorial church) and was dedicated to this Carmelite priest and resistance fighter against the nazi's.