Loenen (G): H. Antonius Abt (E. Kroon, 1846-1848, J.G.A. van Dongen, 1927)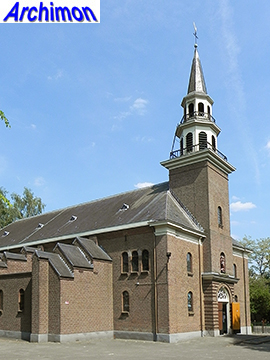 The catholic church of Loenen is an unusual combination of two styles, an originally neo-Classical building with side-aisles in Traditionalist style. It replaced a chapel in a local castle, which had been built in 1792 by order of the catholic owner of the castle, a decendant of the same family who had founded the first chapel of Loenen which later became a protestant church.
In 1843 this Hackfort family announced that their chapel would soon no longer be available for public mass, and so the need arose for a new church. Eventually the castle chapel would be used until 1849 as many problems prevented its replacement. Building permission and a government subsidy were both granted by the king in February 1846. As usual in that time for subsidised churches, an engineer of the governmental Waterstaat department was involved in the assessment of the design. In this case, the engineer E. Kroon also made the design. It was an aisleless brick building in a mostly unornamented neo-Classical style, covered with a hipped roof and with a partly built-in tower with an upper part made out of wood. Construction was tendered in November 1846. In September 1849 the church was finally consecrated.
The Loenen parish grew steadily, and in 1927 architect J.G.A. van Dongen was assigned with the task of repairing and extending the church on a very limited budget. The original side-walls were replaced by new ones, each with a clerestory and a single wide arch to give access to new flat-roofed side-aisles. The front part of the church also underwent some changes, as some fake marble pillars that supported the choir-loft were replaced by a wall, thus forming sepetate spaces for a baptistry and a stairway. In the façade, this resulted in the replacement of the two large arched windows by four smaller ones, two on each side of the tower on two different heights. A similar large window at the tower front was replaced by such a small window as well.
In the early 1960s the church counsel wished to extend the church once more and by 1965 even planned to replace it altogether. Although the design for a new church was made, it thankfully was never built.