Bergharen (G): St. Anna (C. Franssen, 1893-1894)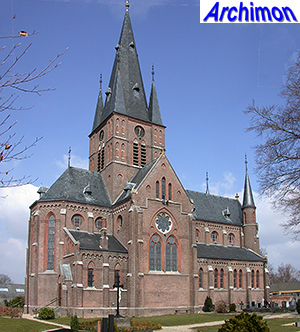 After the Reformation the catholics of Bergharen lost their church to the protestants. After a period in which they attended the church of Ravenstein, which had religious freedom, in 1672 they became part of either the church of Horssen or Hernen. In 1795 a barn church was built in Bergharen itself. After two attempts to regain the old village church had failed in 1830 work began at a new, real church, an aisleless church in neo-Classical style.
By 1890 it had had become too small. Architect C. Franssen was commisioned to design a new church in 1892. The church would become one of the most impressive this architect ever designed. As usual for that time, it is in neo-Gothic style, in this case based on early Gothic. It's a three-aisled cruciform basilica with a clerestory with circular windows and side-aisles with narrow, pointed ones. Possibly inspired by some recent work by his former employer P.J.H. Cuypers, Franssen gave the church a big square crossing-tower instead of the more common west tower.