Wommels (Fr): reformed church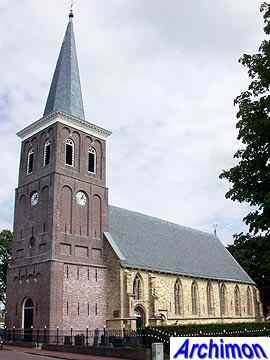 The church of Wommels, then still known by its catholic name St. Jacobus, was probably founded in the 13th century. The original church was destroyed by fire in the late-15th century, and nothing remains of it. A new church in late-Gothic style was built in ca. 1508. As common for this part of the country, it has a aisleless nave. The walls are largely built of yellow bricks.

The tower from this period has not survived; only parts of its lower segment remain in the current brick tower, which was built in 1862 and is in some unspecified neo-style and built of dark coloured bricks that contrast sharply with the bricks of the nave. Instead of the traditional saddle-back roof of the original tower, the new tower was topped off with a spire.

The choir was built some thirty years later than the nave. The wall at its east end contains a niche with an ogee arch at the top, a shape rarely used in Gothic architecture in The Netherlands. Three of the four windows of the choir were closed at an unspecified date and a small entrance was added to the back of the choir in ca. 1720.

At the north side the nave originally had only three windows, one of which was closed later. This wall also has two closed entrances. The church owes its current look to a resatoration in 1971-1972 when a coat of plaster, added in 1873, was removed and all traces of former windows and doors were made visible again.