Hantumhuizen (Fr): reformed church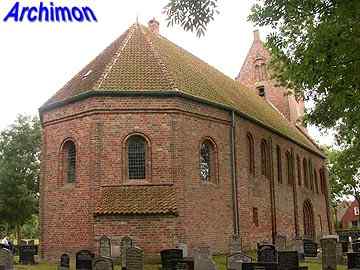 Like many churches in Friesland, the old church of Hantumhuizen is a one-aisled building with a saddleroof-tower. More unusual however is the style in which it was built. Instead of the more common Romanesque and Gothic styles, this church is in the Romanogothic style much more common in the neighbouring province of Groningen. Comparted to romanogothic churches in Groningen this one is fairly modestly decorated.
The tower was built in ca. 1200. The nave dates from the first half of the 13th century. Its walls are decorated with niches, some of which contain windows while the others are filled with decorative brickwork. The two original vaults were replaced in ca. 1335 by three mellon-vaults. The original choir was demolished at an unknown date; the current one was added in the 18th century and given the current pseudo-romanogothic look during a restoration in 1939-1942.