Bolsward (Fr): Grote- of St. Martinuskerk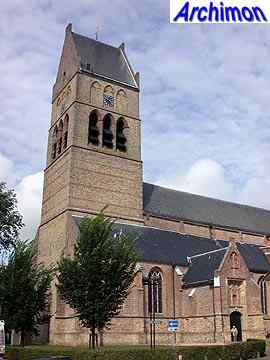 The St. Martinuskerk, also known as Martinikerk or Grote Kerk (Great church), its protestant name since the Reformation, is a big three-aisled pseudo-basilica in Gothic style. The church is the successor of an aisleless church built on the same location in the 11th century, and which was enlarged in the 14th century and mostly replaced in the 15th.
Apart from a piece of wall that survived from the enlargment of the old church, the tower is the oldest part of the church. Work on it started in the first quarter of the 15th century, but it probably wasn't finished until the third. In the 17th century it was covered by a saddle-roof, which is quite common for village-churches in the northern provinces but unique for a town-church.
The nave was built while work on the tower was still continuing. Work lasted from 1446 until 1466. The northern side-aisle ends with a sacristy. The southern side-aisle has a nicely decorated portal. A similar portal on the northern side was demolished in ca. 1900.