Zuidlaren (Dr): reformed church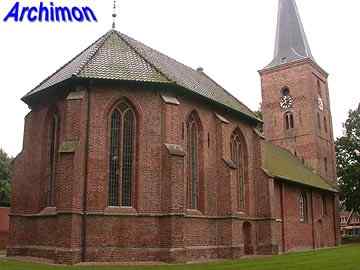 The church of Zuidlaren is a one-aisled building with a higher choir and a tower. The three parts of the church are clearly from different periods.
The tower was built in ca. 1300 and heightened in the 15th century. It is entirely in Romanesque style. The two western traves of the nave were built before the year 1264 and are the oldest parts of the church. Originally this part must have been in Romanesque style as well, but only traces of the original smaller pointed windows remain as these have long ago been replaced by larger ones. The Romanesque entrance at the south side is a reconstruction, following the example of the closed entrance at the north side. The third trave was rebuilt in the 15th century, at the same time when the late-Gothic choir was built. This choir is rather big compared to the rest of the church, which might indicate that it was the start of the construction of a bigger church, but in fact it replaced a straight Romanesque choir which was already about as long as the nave.