Assen (Dr): Onze Lieve Vrouw ten Hemelopneming (J.G.A. van Dongen, 1933-1934)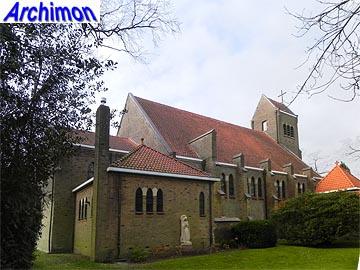 .Although Assen owes its existence to a convent founded as early as the 13th century, the local catholic parish of Assen was founded in 1833. Before that it belonged to the parish of Veenhuizen.
The first parish church was a converted house. A few years later a church in Neo-Classical style was built, which was completed in 1837. In 1880 this church was extended and a Neo-Gothic tower added. But by the 1930's this church had become too small. In 1934 it was demolished as a new church had been built elsewhere in town.
This new church had been designed by J.G.A. van Dongen, probably in conjuncton with local architect J.F.A. Gobel. It's a one-aisled church in Traditionalist style related to the Delft School and A.J. Kropholler's work. It is fronted by a tower with a saddle roof and distinctive buttresses. The nave is illuminated by small, pointed windows and is covered by a wooden roof. Yet, it has large buttresses which probably have no supporting function. On both sides the second trave has small extensions which contain confessionals. At the back of the nave is a narrower, lower and completely closed straight church with a big blue cross at its back. Flanking the choir are sacristies. Another exterior construction is the baptistry at the front. Behind it, a closed corridor connects the church with the presbytery.