Hoorn (NH): St. Cyriacus en Franciscus (A.C. Bleys, 1880-1882)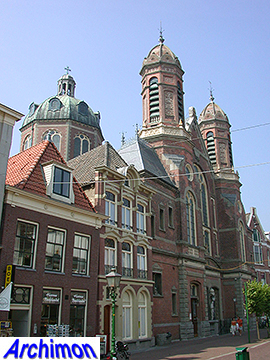 Until 1868 Hoorn had consisted of two parishes, and therefore had two catholic churches. That year the two merged. When in 1877 one of the churches was destroyed by fire and only the much neglected secondary church remained it was time to build a new one. Local architect A.C. Bleys designed a three-aisled cruciform basilica in neo-Renaissance style with a crossing-tower with dome and a front with two polygonal towers. Because the church was to be build on limited space on a major street between houses it was not given a conventional tower but a crossing-tower instead.
In both style and general shape this church precedes the St. Nicolaas in Amsterdam, which was built by Bleys under similar circumstances a few years later.