Maastricht (L): St. Lambertus (J.H.H. van Groenendael, 1913-1916) part 1/2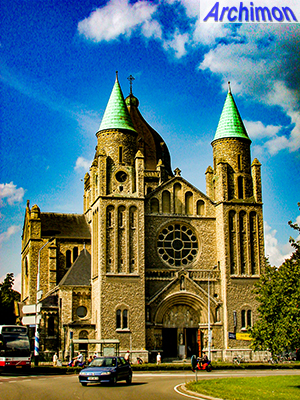 The St. Lambertus was the first church in Maastricht that was built outside the 14th-century city-walls. It's an impressive cruciform basilical church in neo-Romanesque style, designed by architect J.H.H. van Groenendael, for whom this was the first church in twenty years he built in his native province of Limburg, and was consecrated to St. Lambertus, the only saint to have come from Maastricht. On the crossing is an octagonal dome in Baroque style. Amongst the materials that were used are Kunrader stone for the exterior, and marl for the interior. The design was inspired by that of the Sacré-Coeur in Paris, France.
Shortly after construction has started the First World War breaks out. And although the Netherlands manages to stay out of the conflict, it does lead to a shortage of good building materials. Work continues with the use of inferior materials, despite the disapproval of the architect who wants to wait until better materials become available again. But instead, parts of the demolished fortifications, which had previously been on this location, were used. The entrance-doors were made from the wood of a temporary bridge which German troops had built just over the border in Belgium, and that was taken to Maastricht by the river Maas when the Germans no longer needed it. The church was finished years before the war was over, but the use of inferior materials caused many problems later. Especially the dome needed extra support, and in 1976 the church was closed for two years because the foundations needed strengthening to stop the building from sagging. In december 1985 was permanently closed. In 2005 it was finally decided to give the former church a new destination as an office-building.